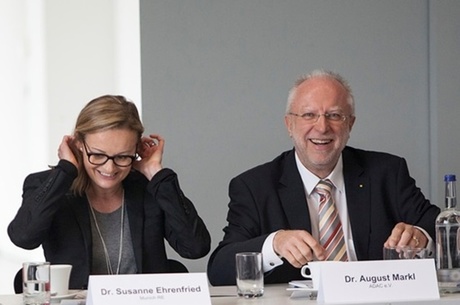 Excerpt from the ACC position paper:
The ACC "understands that when companies and corporate foundations actively collect, preserve, exhibit, and mediate art and culture, they are practicing a social commitment."
The Working Group for Corporate Collecting (ACC), established in 2010, is a forum for businesses and corporate foundations with art collections. ACC members view the activities of sponsoring, collecting, preserving, and mediating art as important components of their corporate culture and commitment to society. Meetings and conferences address specific issues around collecting. Through its work, the ACC helps to strengthen the position of corporate collections in the public sphere.
Aimed at companies with corporate collections, the Working Group for Corporate Collecting (ACC) offers a platform for exchange and networking with experts. It helps to position corporate collections in the public sphere and works to strengthen the relevance of companies as active providers of art and culture. The ACC provides advice on legal and tax matters, acquisitions, donations and permanent loans, strategies for starting a foundation, and art-in-architecture projects.
Since its formation in 2010, members of the Working Group for Corporate Collecting (ACC) meet at multi-day sessions held by invitation of various companies and institutions. These meetings are attended by corporate representatives who are responsible for collection activities. Only members of the Kulturkreis der deutschen Wirtschaft are able to join the ACC.
At present, the Working Group for Corporate Collecting consists of 37 companies that understand the importance of supporting, collecting, preserving, and mediating art within corporate culture. In most cases, these companies have significant art collections that are integrated into their internal and external corporate communications.
ADAC e.V.
Ahlers AG
Alfred Ritter GmbH & Co. KG
Allianz Deutschland AG
ARIS Title Insurance Corporation
AXA ART Versicherung AG
Bayer AG
CMS Hasche Sigle
Partnerschaft von Rechtsanwälten und Steuerberatern mbB
Berliner Volksbank eG
CONZEN
Daimler AG
DekaBank Deutsche Girozentrale
Deutsche Bank AG
Deutsche Börse Photography Foundation gGmbH
Deutsche Telekom AG
DZ BANK AG
E.ON SE
Europäisches Patentamt
Evonik Industries AG
Sammlung Faber-Castell
Franz Haniel & Cie. GmbH
Hannover Rück SE
Helaba Landesbank Hessen-Thüringen Girozentrale
Heuking Kühn Lüer Wojtek
Hubert Burda Media Holding Kommanditgesellschaft
HypoVereinsbank - Member of UniCredit
Kienbaum Consultants International GmbH
KNPZ Rechtsanwälte
KWS SAAT AG
Munich RE
NATIONAL-BANK AG
OSRAM Licht AG
PEMA Vollkorn-Spezialitäten Heinrich Leupoldt KG
TRUMPF GmbH & Co. KG
Westdeutsche Lotterie GmbH & Co. OHG
ACC Member Login:
Are you an ACC Member? Please login here to access the member area.