The working groups of the Kulturkreis serve as forums for exchange, providing professional impulses for companies and corporate foundations.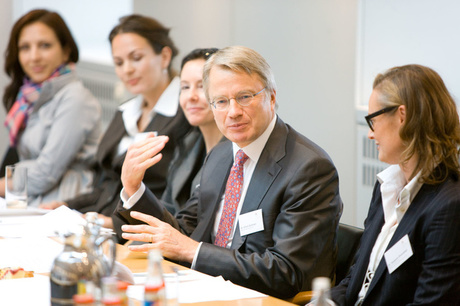 Dr. Nicola Leibinger-Kammüller, TRUMPF GmbH + Co. KG, Corporate Member:

"It is our duty as entrepreneurs to advocate for art and culture. Our country doesn't just thrive on the achievements of smart engineers. It also needs artists and an artistic exploration of the issues of our time. Art affirms the foundations of our shared existence and sparks new ideas."
As an institution bridging business and culture, the Kulturkreis offers expert advice to its members through working groups on corporate arts sponsorship, corporate collecting, questions around cultural education, and international cultural activities.
The AKF is a unique network for companies and corporate foundations that actively supports the arts and culture.
The ACC is a forum for companies and corporate foundations that have their own art collections.
The AKB is committed to promoting cultural competence for business leaders and students of STEM fields and economics.
The AKA contributes to cultural projects on an international scale.