Since 1951, the Kulturkreis der deutschen Wirtschaft has sponsored art and culture in the areas of architecture, visual arts, literature, and music.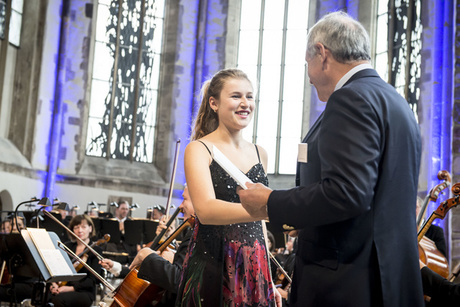 A selection of our prize winners:
... Ingeborg Bachmann (1955), Günter Grass (1958), Daniel Kehlmann (1998), Bernd Alois Zimmermann (1953), Tabea Zimmermann (1982), Marina Abramovic (1982), Wolfgang Tillmans (1995), Michael Sailstorfer (2006), Flaka Haliti (2015) ...
Through organising endowed prizes as well as exhibitions, competitions, and events, the Kulturkreis is committed to supporting emerging artists and cultural producers. One of our guiding principles in this endeavour is to provide support that is sustainable. Important decisions about our funding areas are made by committees composed of Kulturkreis members and specialist consultants, chaired by leading figures from the world of business. Since its founding, the Kulturkreis has sponsored outstanding achievements by more than 1,000 emerging artists. For many now world-renowned artists and Nobel laureates, an award from the Kulturkreis was the first major recognition for their work.
The architecture competition TRANSFORMATION takes place annually for architecture students at German universities.
The ars viva prize is an annual award for emerging visual artists.
The annual literature prize "Text & Sprache" considers all forms of text and language, representing the fluid boundaries between literary genres.
The annual music competition "Ton & Erklärung" alternates between the categories of piano, violin, cello, and voice.