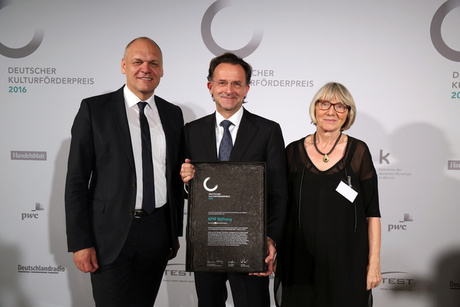 Does your company or corporate foundation actively support culture in addition to its main area of business? If so, we invite you to submit one of your company's cultural sponsoring projects for the Deutscher Kulturförderpreis (German Arts Sponsorship Award).
In partnership with Handelsblatt, the Kulturkreis der deutschen Wirtschaft has awarded the Deutscher Kulturförderpreis (DKFP) since 2006. The prize honours corporations and corporate foundations that have demonstrated an outstanding level of cultural commitment. Any company, regardless of size or industry, can apply by submitting a cultural sponsorship project from the past 24 months.
A jury consisting of high-profile representatives from business, media, culture, and politics is newly appointed each year to evaluate the entries. The panel carefully considers the creativity, cultural relevance, sustainability, and public impact of each support framework. Funding expenditure is not a determining factor in the assessment. The prize is awarded in separate categories for small, medium, and large companies.